Welcome
Welcome to Mochimitsu, Mochi's hobby anime related dump site. Here you will find her digital creations, occasional contests, friends and other fun scribbles! :) Thanks for dropping by, please do take a look around and visit my affiliates ~ you won't be disappointed. Come back often and check for updates, Happy Browsing!
Updates

Hey folks, Mochimitsu will be going on revamp. I am kind of redoing the site quite a bit, the reason is because a lot of the sections never get updated and its just kind of there. For starters, website reviews will be moving to Star Drops, the form has been broken forever. I still want Mochimitsu to be casual but maybe more blog like with graphics and other fun things but solely anime and manga? I am also reconsidering what Mochimitsu's content should comprise of, not sure if the pixel dolls will even stay up, I might just make dolls solely as contest prices. The anime/manga review section might get changed and expanded. I am not exactly sure what everything will be like yet but change is coming! I have a new layout half way made, I am done playing around with the image but I been undecided what the design will look like, here is a sneak peak: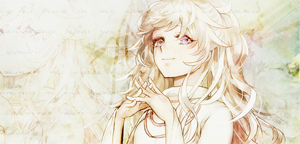 This revamp might take a while because I want overhaul a lot of things. I think Mochimitsu will stay open for now but I won' t be updating the site all that much. I might just let it stay open and than upload all the change at once, we will see.
Hilarious Icon from Vizune

Its only been a few days and I am already updating? Well I am pretty free August and I want to keep my promises with updating this site.
The update is not huge but I think frequent small updates may be better than massive updates once a blue moon. As I mentioned in my previous post, I wanted to try and increase the number of other graphics on the site aside from layouts. In my effort to do so, I added 4 new phone backgrounds and 3 new facebook covers. They feature mainly visual novels Brothers Conflict and Wand of Fortune by Idea Factory, the art they have is also so amazing.
We also have a new affiliate, Kristin of Pixphoriad! Her site is beautiful and she got some really nifty resources to check out.
Aside from Mochimitsu, I been trying really hard to work on my other domains. I finally revamped and cleaned out Star-Drops.Org, my poor neglected collective/blog. I am going to try really hard to be active on here, if you have a blog and would like to be affilaites, let me know since I am looking for blogger friends.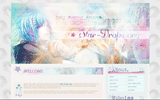 Come visit me! :) Well that is it for now, hopefully my next update consist of pixels. That section has been dead for some time now.
Icon by Pixphoriad

Omg! Its a ghost, its a hologram, its a Mochi? lol I am back everyone, after a long hiatus, I returned back to my apt after spending much of my time at my parent's place. Long story short, one of my family members got very sick and I needed to return home, I left my home laptop (that contain Photoshop and everything Mochimitsu) so I was unable to do any designing. I got a part time job as a office clerk too, it was a horrible job to be honest, people are really rude and expect you to do 20 things all at once. So glad that is over with. I am starting second year in fall, I am going to do a Microbiology degree because it really fascinates me. I plan to try and get a job in food safety or maybe a job at a research lab, the amount of things are made by bacteria is insane, medication, dyes, alcohol, food, etc.
Anyways updates! Mochimitsu finally has a new skin, its pink, coral, orange and very warm like August. I am pretty happy with it. For content update, I have loads of stuff:
4 new Main Templates were uploaded, series are vary!
4 new Status Templates
3 new headers, all featuring fab anime boys.
Finally upadted the past layout page, version 8 is unfortunately lost
Credit page also updated
A lot of dead link exchanges were deleted
Jenette of Paradoxacity has disappeared, so the affiliate was removed. :(
Next update I am hoping to concentrate some of the other contents like sigatures, phone bgs and pixels.
I am also working on my first Writing Site, exiciting!
Bye lovelies!
Icon from Cortado