Category: Avatars
Written by: Mochi
Required Tools: Photoshop
Difficulty: Itermediate
Quick Summary: This is a basic introductory to using grunge textures to make icons. It shows you how to properly base, tips and rules of thumbs to achieve grungey icons. You will need basic photoshop layer "effects" knowledge for this tutorial.
Selecting A Image Base and Textures
To start making an icon you need to select a base, do this you can find a image that you like it and crop it to 100x100 or alternatively if you are lazy like me you can pick a precropped one. For this particular tutorial, I picked a Vampire Knight base from Hey love.

Once you have your base, its time to look for some grunge textures. There are literally hundreds of graphic site that offer 100x100 grunge textures so pick out a couple you like. Stick to similar colors: red/orange/yellow, red/purple/pink, yellow/green/blue, etc. This will prevent color cancelling when you are layering your textures. Alternatively, if you are beginner, I suggest you download a set where the textures are often similar. I am using this set by Tarla @ Deviantart. Out of that set, I will be using the following 4 textures:



Grey Texture Base
This is the most important step to using grunge texture or any busy texture. Grey does not show color when in overlay, softlight or hardlight but the textures do show up. To obtain a basic grey texture base, you can easily create one by layering some brushes or findind grey icon textures. For this tutorial, I made whipped up 3 really quick:



Feel free to use these grey bases but be sure to credit me on your credit page. Anyways LETS GET STARTED. Open both your image base and grey texture up, I am going to use the second one. Copy and paste the image onto the grey texture. Than go:
Layer → Layer effect dropbox → Overlay.
It should look something like this: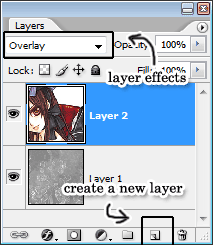 Notice how you have texture but no color change?
2 Bases above and 2 bases below.
A rule of thumb to prevent over-texturing (you still want the picture to be there) is two have no more than 2 textures above and 2 textures below the image, especialyl if you are beginning. Once you get the hang of this you can use as much as 10-15 textures. When you are using textures, the layer effects overlay, soft and hardlight will be your best friend because they will add texture without overwhelming the image. So for me:
Starting with the "below" image textures, using texture 1, place it above the grey texture. I am going to go:
Layer → Layer effect drop box → softlight. It would look something like this: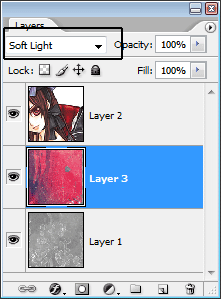 Now, I am going to use texture 2 for the 2nd below image texture and set it to soft light too. Make sure its on top of texture 1.
Layer → Layer effect drop box → softlight.

Now switching to textures above the image, I going to start with texture 4 and go: .
Layer → Layer effect drop box → softlight

Finally, using texture 3, placing above texture 4 I am going to go:
Layer → Layer effect drop box → softlight. It should look like this:

Finishing Up.
With 2 textures above and below the image base, you are pretty much done. Its fime to do some touch ups, notice that Yuki's face looks a bit over textured so I am going to erase parts of the icon textures that is over her face to smooth it out. You can erase parts of texture that is giving textures in places you don't want it or is just too strong. I always like to add a nice border so I am adding a 2px white on color border. To furture spice it up I am added some text and slightly adjusted the color:

I hope this tutorial helped you. Try different grunge textures and image bases, you can make some really cool icons!

Posted by Mochi