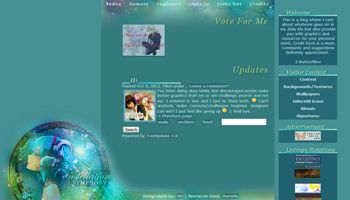 Title:Mystic Dreams
Category: Blog/Collective
Staff: Pim
Warnings: None
Ratings:

Quick Summary: Mystic Dream is a budding graphic site run by Pim! The site has just opened and could use some improvements but there is clear efforts made! It offers a small selection of graphics like Wallpapers, Icons, Signatures and etc. A highlight of this graphic site is it does have a solid amount of content going despite being quite new. Some of the icons are quite nice!
Presentation
Rating:
NULLED
This section is nulled because the main layout used was not designed by the web owner.
Navigation
Rating:
They navigation/menu was fairly good. The premade layout already offered a easy sort of organizing template with top and side navigation options. Something that I love as site related stuff can easily go on top, leaving the 'real' content of the side for the more visible side bar. Some improvements I would suggest is remove the Vote for Me sectio on the main page elsewhere. Its distracting and a little out of place, I suggest either shrinking and moving it to the side bar or to its own page. Other suggestion is moving the link rotations to either the bottom of the main page or moving it to the link outs page. It takes up a lot of room and doesn't blend nicely with the navigation.
Content
Rating:
The graphics definitely show some effort, while it could use some improvement in quality, for a beginning site its actually quite good. With time, the graphics I am sure will improve. One of the biggest thing that needs to change is the fact that many real sizes of things like wallpapers and blends are not assessible. Its only a thumbnail and as a result, does not download properly. A graphic site needs to have its content available, I would make a link to the actual files so when people click on the graphics, you will see the life size or it will not be used.
Vibe
Rating:
Mystic Dreams definitely does have a good vibe! I love the fact that there is not a giant rules page but just a reminder located in the welcome message. Though I might tweek it to say "Credit back is nessecary" instead, "a must" sounds a little passive aggressive. Pim is also very easy to contact via her tagboard, she visits her friends regularly and is quick to reply. Something many web owners cannot provide due to a busy schedule so a definite bonus.

Reviewers Final Thoughts

My Favorite part: Neatly organized graphics with many different colors, webmistress is also easily contactable..

Suggested improvements: Need to have link to the actual size of graphics like wallpapers/blends/signatures, not just the thumb nail. Maybe shift the navigation so its more neat. I also suggest trying using textures more and give a shot at making your own layout!

Posted by Mochi