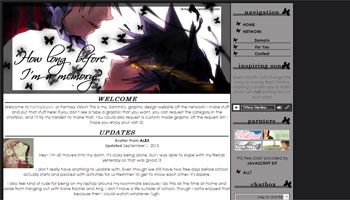 Title: Fantajibijon
Category: Graphic & Collective
Staff: Sammmii
Warnings: None
Ratings:

Quick Summary: Fantajibijon or Fantasy Vision is a graphic collective run by Sammii. The site offers a wide range of online and printable graphics ranging from layouts to calendars! Sammmii provides a great deal of content, one of the highlights of this site are the printables which are not commonly offered by most graphic sites. It could use some improvements but overall, this is a well put together site!
Presentation
Rating:
The color of the layout was great, non-clashing and easy on the eyes. I was also the fan of the fact that the content area was a white color, this made the content area stand out greatly and was very easy to read. I also really like the fact that the navigation was condensed and not left dropping into an endless scroll. Some things that I feel like would improve the layout would be to seperate the navigation, content and main image a bit. Giving some margin would help spread out the site a little, it feels a bit 'squished' and boxy lined tightly next to each other. The main image could also use some additional editing, while I love the fact that its not over edited, I feel that as a graphic site, the main image should have more customization.
Navigation
Rating:
The navigation in my opiion was well done. It was condensed into descriptive categories and easy to access. My only suggestion is rather than having the categories stand out a bit more and make it more clear that they are dropboxes. Some visitors may simply not be aware that there is more content. I would also remove the clock, most computer already shown time so most visitors will not look at it. It takes up room and doesn't really match the rest of the site.
Content
Rating:
The quantity of the content is definitely there. Sammii has lots of content to offer for visitors. There are some improvements I would suggest such as additional customization. Many of the graphics are color changes, added text and basic brushes. I feel like as a graphic site, you can open a lot of new possibilities by trying out textures, additonal brushes, gradients and play around with text effects.
Some things that I really enjoyed were the stock photos, stock photos, calendars and cellphone backgrounds. Generally not offered by most graphic sites and as metioned before, highlight of the site.
Vibe
Rating:
Sammii's site has a great vibe to it. She is friendly and visits her online pals regularly. The site does not contain any sort of offensive material or is discriminative towards anyone. Fantajibijon has that 'home-made' feel to it which makes it less intimating than many more professional graphic sites. Many graphic site rams in the whole don't steal my stuff, etc into a visitor's face which can really discourage people from using your things but Sammii's site feels friendly and does not have rules plastered everywhere. 10/10 on a friendly vibe!

Reviewers Final Thoughts

My Favorite part: Very friendly easy going feeling to the site, printable art and stock photos.

Suggested improvements: Spreading the layout out a bit, trying new customizations for graphics rather than sticking to one formula

Posted by Mochi